This June, Fulbright Taiwan will host a Fulbright Talk, a forum that invites various scholars, researchers, and professionals from our 2022-2023 U.S. grantees. They will share their excellent research and unique living experiences during their granted period in Taiwan.
The topics of this forum include "social welfare," "artificial intelligence," "Eastern Asian religions," "Chinese teaching methods," "pipa performance and composition," and the "philosophy of the Song Dynasty." Dr. Chi-Fang Wu (University of Illinois at Urbana-Champaign), Dr. Jenny Lin (California State University Monterey Bay), Dr. Michel Mohr (National Taiwan University), Dr. Shenglan Zhang (Iowa State University), Mr. Baldwin Giang and Mr. Mackenzie Fox (Columbia University) will talk about their professional and innovative ideas during the event.
[WHEN]
2:00-5:30 PM, Tuesday, June 20, 2023
[WHERE]
3F Lecture Hall, Foundation for Scholarly Exchange
[ONLINE REGISTRATION]
See the following button.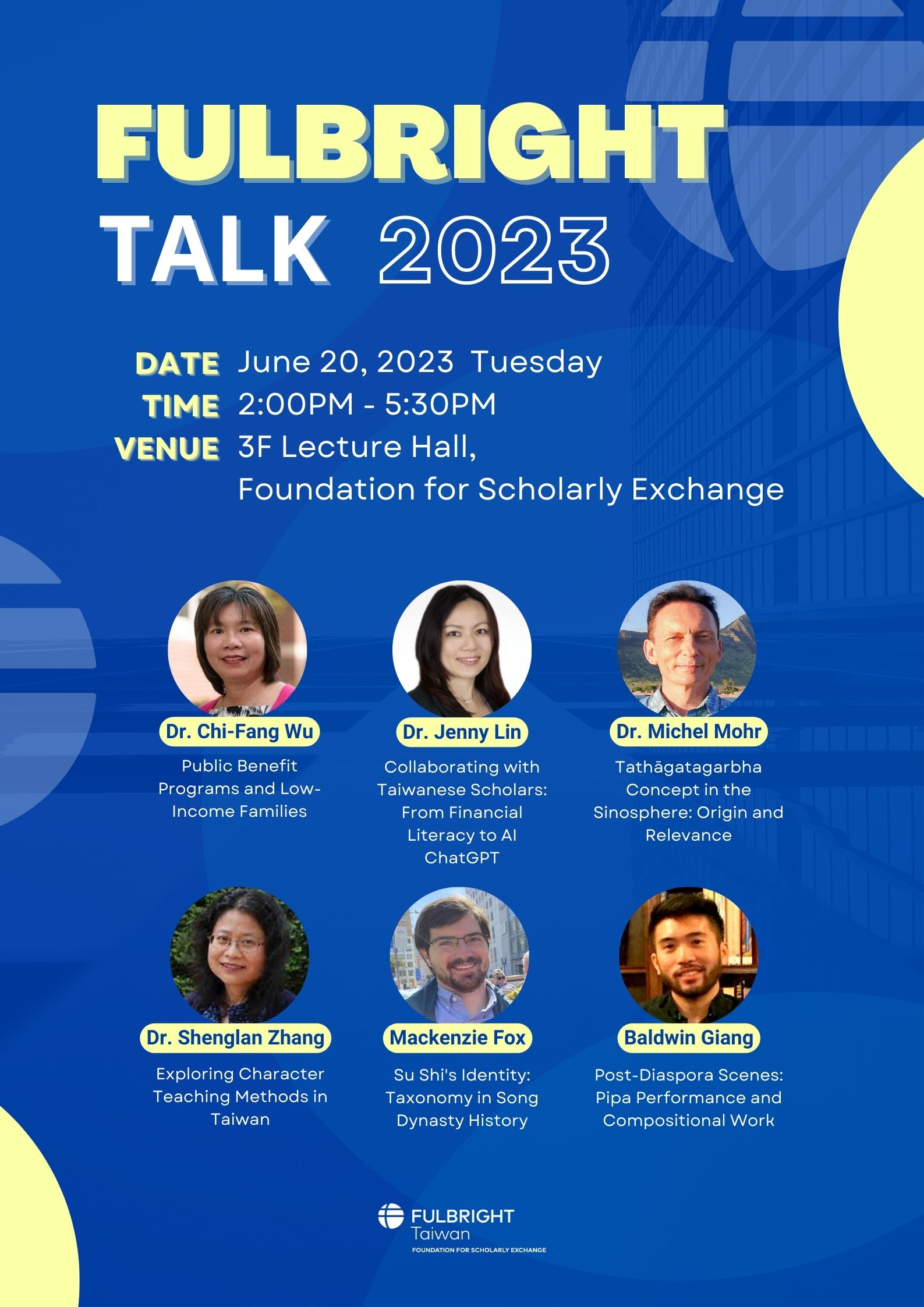 Dr. Chi-Fang Wu: To What Extent Do Public Benefit Programs Assist Low-Income Families
Dr. Chi-Fang Wu is a Professor and PhD Program Director in the School of Social Work at the University of Illinois at Urbana-Champaign. She is currently a visiting professor in the Department of Social Work at National Taiwan University. Her research focuses on poverty, economic inequality, and access to public benefits programs. Her current research examines the effectiveness and accessibility of social safety net programs, including the types and combinations of benefits that best reduce material hardships and enhance the well-being of low-income families. She has extensive experience analyzing longitudinal state administrative and national population-based data using sophisticated statistical methods. She received Ph.D. in social work from the University of Wisconsin-Madison School of Social Work.
As a Fulbright Teaching/Research scholar, Dr. Wu has developed an international collaboration for teaching and research on poverty among low-income families in Taiwan. She has taught a social welfare policy course, mentored undergraduate and graduate students, and collaborated with scholars from National Taiwan University to study poverty and research family benefits packages and the extent to which these packages assist Taiwanese low-income families. She will present some preliminary findings from the Panel Study of Family Dynamics longitudinal data. The results provide insight for policymakers seeking a strong social safety net system to support the diverse needs of low-income families.
Dr. Jenny Lin: From Financial Literacy to Animal Hospitals to AI ChatGPT: Building Research Collaborations with Taiwanese Scholars and Students
Dr. Jenny Lin is a Marketing Professor visiting National ChengChi University as a Fulbright Scholar from California State University Monterey Bay. She was born in Taiwan and received her PhD in Marketing from Iowa State University. Jenny was trained as a veterinarian, a neuroscientist and a marketing researcher. Her research interests span across consumer behavior, consumer psychology, neuromarketing and advertising, and has published in respected journals in the field of marketing and advertising. Her research has implications for marketing managers, practitioners and public policymakers.
I started off with my research project on understanding the role of social media and financial literacy in Taiwan as a visiting professor at NCCU. During the process of collecting data and conducting in-depth interviews for this project, I found myself mentoring and advising several doctoral and undergraduate students. My interdisciplinary training and bilingual background has helped me bring together Taiwanese scholars and practitioners through my research projects. In this presentation, I will share how these collaborations were formed, what we have accomplished so far and next steps to carry on these valuable professional relationships and friendships.
Dr. Michel Mohr: Innermost Buddhahood: Inception of the Tathāgatagarbha Concept in the Sinosphere and Its Present Relevance
Dr. Michel Mohr earned a PhD. from the University of Geneva in Switzerland. After that, he taught in Europe and Japan before becoming a full professor in the Department of Religion at the University of Hawaii at Manoa, where he also served as Chairperson. He is currently a visiting professor in the Department of Philosophy at National Taiwan University. His research focuses on East Asian religious traditions and intellectual history, with an emphasis on Chinese and Japanese Buddhism, ethical issues, and the question of universality. His publications include the monograph Unitarianism, and the Meiji Competition for Universality (Harvard University Press 2014).
This presentation summarizes my hypothesis about how the introduction of the tathāgatagarbha concept in the Sinosphere led to a radical reinterpretation of human nature, whose echo resonates here and now. After examining some of the central premises involving the issue of birth and death, I will highlight what happened before and after the Tathāgatagarbhasūtra's first translation into Chinese, and discuss how the womb/embryo metaphor encapsulates soteriology. The issue of soteriology relates to how such a description of Buddhahood remains relevant today. Finally, I will describe my main activities in Taiwan and the outcomes of my tenure as a recipient of the Fulbright Award.
Dr. Shenglan Zhang: In Search of the Best Character Teaching Method: A Rewarding Experience in Taiwan
Shenglan Zhang, Associate Professor in the Department of World Languages and Cultures at Iowa State University. She earned her PhD in Educational Psychology and Educational Technology at Michigan State University. Her research focuses on how blended/flipped learning environments can be designed to maximize students' language skills, how teachers can help students improve their self-regulated learning, how Chinese script could be taught more efficiently, and how language teachers can contribute to and utilize Open Educational Resources. She is co-editor of the Journal of Technology and Chinese Language Teaching and serves on the editorial board of Chinese as a Second Language.
My time in Taiwan has been a truly rewarding and transformative experience, encompassing various aspects of my life. Beyond the boundaries of my proposed research project on character teaching, I have encountered personal growth and actively contributed to the vibrant learning communities at National Taiwan University and National Taiwan Normal University. This final report aims to highlight the accomplishments achieved in my research, the personal development I have undergone, and the contributions I have made to the community.
Baldwin Giang: Scenes from the Post-Diaspora: Pipa Performance and Discussion of Compositional Work
In this presentation I will present snapshots of the two phases of my Fulbright artistic/research agenda. First, I will perform excerpts from three pieces in the pipa repertoire. Then I will present excerpts of recordings of two works composed here in Taiwan, for orchestra and choir+percussion respectively, that reflect on experiences of diaspora. Then I will briefly discuss the process of composing my piece involving pipa and ensemble, Scenes from the Post-Diaspora, a movement of which will be premiered at the Aspen Music Festival in August this year.
Baldwin Giang is a composer and pianist, and winner of the Samuel Barber Rome Prize from the American Academy in Rome for 2023-2024. Named as a composer-in-residence for the Louisville Orchestra beginning in 2024, Baldwin has had his music performed in venues including Carnegie Hall and Symphony Center. Previous collaborators include New Jersey Symphony, Ensemble Intercontemporain (France), Riot Ensemble (UK), and New European Ensemble (Netherlands). A graduate of Yale University, he has won the Fondation Maurice Ravel's Prix Ravel, ASCAP's Morton Gould and Leo Kaplan Awards, and a Gaudeamus Prize nomination. Baldwin is currently a PhD fellow at the University of Chicago.
Mackenzie Fox: Was Su Shi a Wenren 文人?: Taxonomy in Song Dynasty Intellectual History
Mackenzie Fox is a fourth-year Ph.D. Candidate at Columbia University in New York, NY. His dissertation research concerns Song Dynasty intellectual culture, and is particularly focused on the challenge of making sense of the enormous diversity of thought and of thinkers during the period. He has been affiliated with the Institute of History and Philology at Academia Sinica during his time in Taiwan.
Su Shi has traditionally been seen as among the greatest of pre-modern China's literary men. Su, though, often expresses considerable skepticism regarding the value of the arts. This presentation will discuss some of the problems with the conventional image of Su as first and foremost a literary man, and offer a way of conceptualizing Su that takes into account his sometimes contradictory statements about the arts and their value.